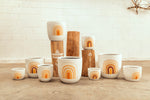 A typical consideration when in the market for an indoor plant is a suitable material for the indoor plant pot.There are lots of reasons why this might be of importance from the get-go.
Depending on the indoor plant, different potting materials are deemed ideal for different plants to aid their growth as well as in the care and maintenance of these plants. The potting materials that support the optimum and healthy growth for a succulent Cacti, for instance, might not be the best for a Tillandsia plant.
You might even have made the mistake before realizing that the material for your indoor plant potis contributing to the reason for the stunted growth of your indoor plant.
We will be looking at various materials used in making plant potting as well as their different pros and cons while throwing in some helpful tips that you should know when considering some of these containers.
Alright, let's dive in!
Clay Pots
By far the longest-serving type of plant pot material and still the most favored for some kind of plants, this material seem to be the natural choice for most indoor plants and gardens.
The choice of a clay pot might come as a ceramic or a terracotta container. Both are made from clay though with some differences.
For the terracotta which is the standard red-colored earthen pot, it has a porous surface making it very good for draining excess water from plants.
The ceramic on the other hand has glazed surfaces and is less porous than the terracotta. Ceramics are generally heavier than their terracotta counterparts and are available in more stylistic designs than the terracotta due to their glazed surfaces.
Pros
Clay pots have been in production for many years and as such comes in various shades and varieties of quality so that no matter what your budget is, from the very basic to the exquisite there's certainly a clay indoor plant potfor you
Cons
Clay pots are not the strongest kinds as they shatter almost certainly when dropped from a height which when considered with their heavyweights makes some people think twice before purchasing them

For plants that might require quite some level of watering, clay pots especially the terracotta brands might not be the ideal. Due to its porosity, terracotta pots will drain off water that might be retained after watering leaving the soil to dry out quickly

Weather is another important factor for clay pots as terracotta cannot withstand the cycle of extremes of winter and summer for long without deterioration
Plastic Pots
Another common material for indoor plant potsis the plastic material. Plastic pots could easily contend with its clay forerunner due to its varieties, affordability, as well as its durability, making it one of the most widely used potting materials.
Pros
Its durability is probably one of the reasons why it is popular among gardeners since it doesn't break easily when dropped from a height

Plastic pots are one of the most affordable containers for plants you can find in the market today, with options available for top range quality plastic pots too

It's also very lightweight which makes handling and carrying it easier than the clay pots
Cons
Plastic pots are also affected by extreme weather specifically high temperatures from the sun which can cause bleaching of its colors throughout exposure

Plastics wouldn't also be best suited for certain plants especially edibles as some findings have shown that it can deposit chemicals into the soil when exposed to the sun for too long - the cheap ones in particular

The style might not be so desirous as the cheap plastics look and feel ordinary
Wooden Pots
The probability of a plant growing in a plant material can be fairly high as wooden pots have become a norm lately. Aside from being a natural material, wooden pots are easily designed for a variety of unique aesthetic styles. The quality, durability, and options of style is as many as the plethora of trees and wood types that you can find in the world today. Common woods used for indoor plant pots include teak, pine, Cedar, and redwood.
Pros
Easy accessibility to wooden materials and being simple to produce means that it is relatively affordable even for stylish designs. Many individuals with little carpentry skills take it up as a project with great success
Cons
Wooden pots might need pretreatment before usage and periodic maintenance treatments which might cost you some extra cash

Decay is another problem for wooden pots if subjected to weather conditions especially in the extremes of winter without proper treatment
Fiberglass Pots
Fiberglass material can be used for both outdoor as well as indoor plant potbecause of its high durability and resistance to the effects of unfriendly weather conditions. Its uniqueness lies in its ability to be adapted into different shapes, sizes, forms, and designs. It can be easily designed to pass as any other material including terracotta, metal, concrete, ceramic, and plastic. Its lightweight property is yet another uniqueness as it is the lightest of all theindoor plant pots mentioned earlier.
Pros
Fiberglass is less heavier than all other materials including plastics

Most modern designs can be achieved with a fiberglass pot

Its resilience to extreme weather is immense as it can go on to last for a very long time even in severe weather conditions
Cons
Fiberglass Pots are relatively expensive when compared to other materials like terracotta and ceramic pots

Fiberglass may carry rough surfaces over periods of hard washing maintenance on its body and may not look presentable over the years
Useful Tips for Pot Materials
A good understanding of the properties of indoor plant pot materials will help in their maintenance and ultimately help plants grow well.
It is good preventive maintenance practice to place heavy plastic bags with holes cut at the bottom as lining for both terracotta and wooden pots.
Adding some paintings to both plastic and wooden pots can bot preserve as well as accentuate their location within the house.
Soft cleaning routine for the fiberglass material and storing them indoors away from harsh weather elements can preserve their appearance for a long time.
Why not put these great tips to use today and experience the joy of a full blossoming indoor plant for yourself.